Conversations that improve decisions, productivity, and innovation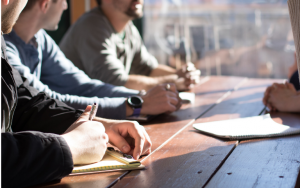 Conversations are at the heart of any organisation. When you improve the quality of the conversations that occur in the workplace, you improve the quality of every process. You will, for example, get higher quality decisionmaking, increased productivity, and increased innovation. Improving conversations is a matter of skilfully creating conditions under which conversation can flourish. However, different types of conversations need different forms of leadership. So, to improve conversations, you need the ability to recognise what type of conversation is happening and knowledge of how to lead each type of conversation to the next level. Creating the conditions for people to talk about the important issues instead of being stuck in politeness is different from creating the conditions for moving conversations beyond stubbornness, prejudice, or silo thinking. On this course, you learn to recognise different types of conversation and ways of creating the conditions that will move each type of conversations to the next level. You learn to use dialogue as a strategic tool that engages collective intelligence and mobilises energy for collective action towards realising organisational objectives.

The course is an energizing mix of practical reflective exercises, short presentations of relevant research, and group dialogue. To ensure relevance, the course focuses on working with the participants' own challenges.
Create the optimal conditions for high-quality conversations to occur • Identify different types of conversations
Select and critically evaluate the effect of leadership interventions aimed at improving workplace dialogue • Use dialogue as a strategic tool to engage collective intelligence and mobilise energy for collective action toward organisational objectives
Identify your untapped potential for developing your ability to lead dialogue
Claus Springborg, PhD and lecturer at CBS
10+ years of experience teaching leadership and cocreation skills, management theory, systems of personal development, and entrepreneurship as an executive educator and as a lecturer at business schools across Europe. Being active as publishing academic, entrepreneur and social entrepreneur, I'm passionate about developing theories through practice and for practice. In my teaching, I value humanistic principles, precision, reflexivity, and humour